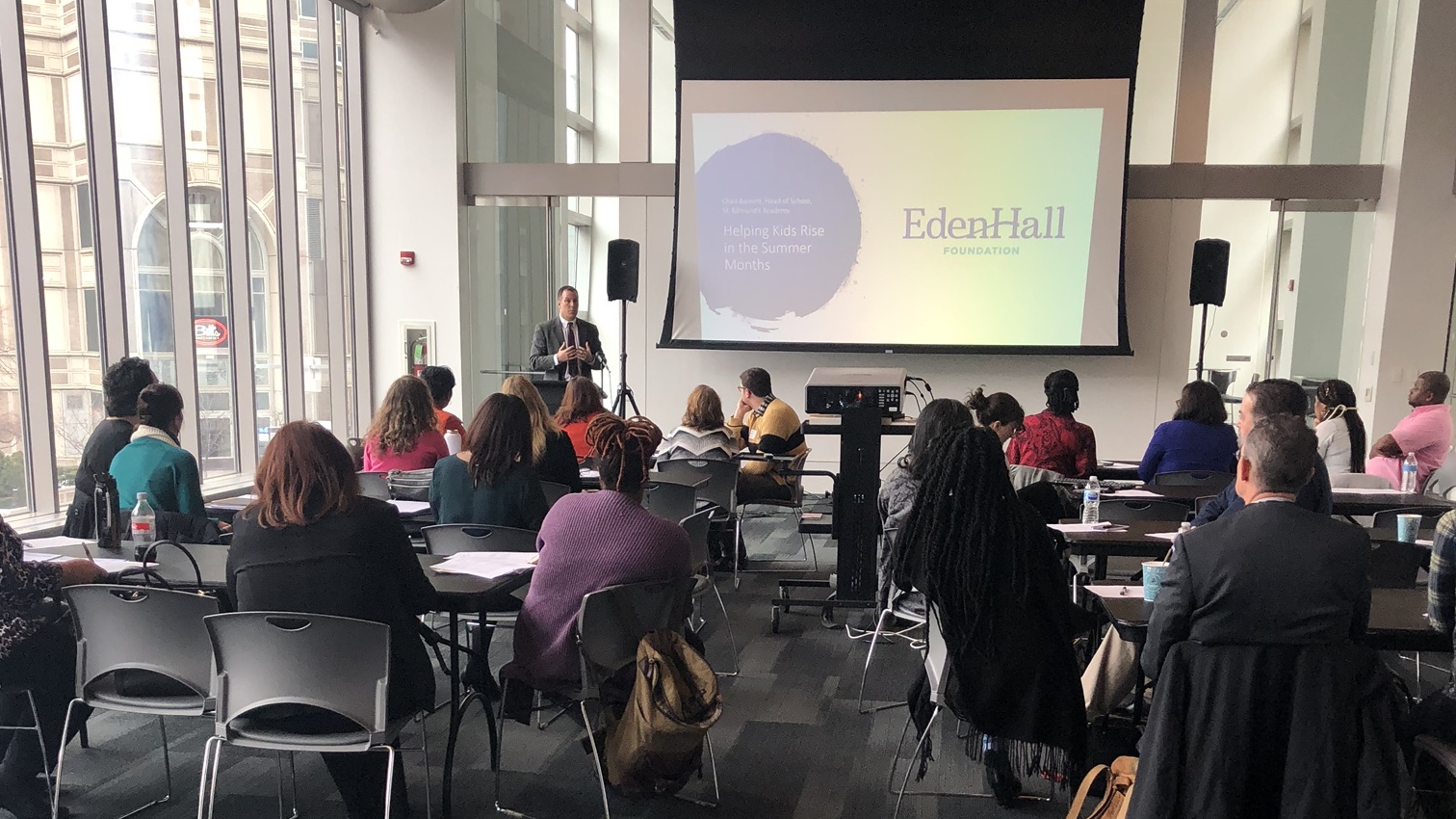 On January 17, 2019, Eden Hall Foundation was pleased to bring 15 organizations from Allegheny, Washington, and Westmoreland counties together to learn and discuss priorities for Summer Programs, including preventing the summer slide and summer hunger. Collectively, these organizations serve thousands of children every summer. 
Eden Hall Foundation recognizes the importance and the power of summer programs. We believe that all children need and should have access to high-quality summer learning opportunities. Summer programs play a unique role in supporting proper growth and development and ensuring children stay sharp and maintain their academic skills. We partner with groups that we know are providing high-quality programming to ensure academic growth, social-emotional learning, and health. 
Speakers presented valuable resources to assist organizations to enhance and their programs during the summer months, but many of these resources can be useful year round. Below are resources available to organizations and the presentations from the workshop. 
Education
Staff Development 
Check out APOST's website for upcoming trainings, resources, Quality Campaign information, and more! You can also sign up for "News You Can Use," a weekly e-newsletter from APOST.
If you haven't done so already, consider adding your program to APOST's Program Finder. 

APOST offers a host of trainings for their Quality Campaign Partners – explore descriptions of all those trainings.

Save These Dates and stay tuned for more details – and always check the APOST calendar for more outstanding events and opportunities: 


Summer Program Staff Hiring Fair – Friday, March 21st  


APOST's Summer Conference – Friday, June 14th   
Summer Food Programs
Summer Food Service Program Presentation -

This presentation provides an overview of the Summer Food Service Program.

 More information can be found on the Department of Education's website.

The Greater Pittsburgh Community Food Bank is actively engaged in confronting issues of chronic hunger, poor nutrition and health. This summer, they will become one of the region's largest Summer Food Service Program sponsors. Lauren Babich is the Child Nutrition Outreach Manager at the Food Bank and oversees the program.  If your agency is interested in serving meals to children in the summer, connect with Lauren (lbabich@pittsburghfoodbank.org or 412-460-3663 ext. 507) and she can discuss different options with you, including becoming a Summer Food Sponsor or a Summer Food Site.   
The Food Research and Action Center (FRAC) is a great resource on children's food programs and advocacy nationwide. 
Healthy Activities
Service Learning & Character Building 
Applying for a Summer Program Grant:
A step by step walk through of the grant application software can be found here.
Your organization will be notified of the status of the application within a month of application.